Kitchen islands are often the staple of any kitchen. An island is an excellent place for guests to gather to drink, eat, and converse while having a resting place. It's also a great spot to stand and sit, whereas a kitchen table is known for primarily sitting. However, the question for kitchen islands is, do they need to be centered in the middle of the room?
Kitchen islands do not need to be centered. Dining and cooking kitchen islands should be placed in the middle of the cooking area. Islands that need electric power should be positioned near outlets but do not need to be centered.
We're going to talk about the best way to align your kitchen island, but first, let's learn more about the kitchen island.
Kitchen Islands Not Centered
The kitchen islands do not need to be centered. If the kitchen is combined with a living room or continues into another room, we recommend finding the edge of where the tile meets the next room.
The answer to this question is all based on the kitchen size. Each kitchen will have a different-sized kitchen island that fits with it.
We highly encourage you to measure out your kitchen before deciding to install a kitchen island.
In all other cases, kitchen islands should be placed in the most accessible spot within the kitchen. One of those spots may be centered. It all depends on your kitchen layout and how big the kitchen island is.
Average Size Of A Kitchen Island
Kitchen islands typically average between 3 feet 6 inches and 4 feet tall. It depends on the kitchen island's style and what the island's primary purpose is.
Kitchen islands are used strictly for storage or cooking. Those who plan to have a sink installed have chairs that double as kitchen tables in an apartment or even a place for friends to gather around.
It's important to know that there are different types of kitchen islands that you can install. Below, we'll showcase what each kitchen island is available to you and help you purchase.
Types Of Kitchen Islands
Below are the different types of kitchen islands that you can build within your kitchen.
Sink Island
Kitchen islands with a sink in the middle are often called "sink islands." As pictured above, these islands come with a sink fixture connected to a water hose and have full washing capabilities.
One thing to highly consider when building a kitchen island with a sink attached is you'll need to call the plumber in to get additional plumbing to the sink. We recommend you factor this into your pricing when installing a kitchen island with a sink.
Sink islands are great for high-ceiling kitchens that want a centralized washing post separate from their cooking station.
Cook-Top Island
Kitchen cooktop islands are exactly what they sound like, an island to cook! Cooktop islands are great for cooks who like to entertain guests as the main focus in the kitchen.
We always recommend that homeowners who want to install a kitchen island with a cooktop must get gas or oil piped into their kitchen for the stove to activate. This may cause additional costs for installing the piping on top of your kitchen island that you're looking to purchase.
Cooktop islands are also great for chefs who can cook dinner and watch their kids eat. It often doubles as a table (see picture above) and provides an audience for the cook!
Dining Island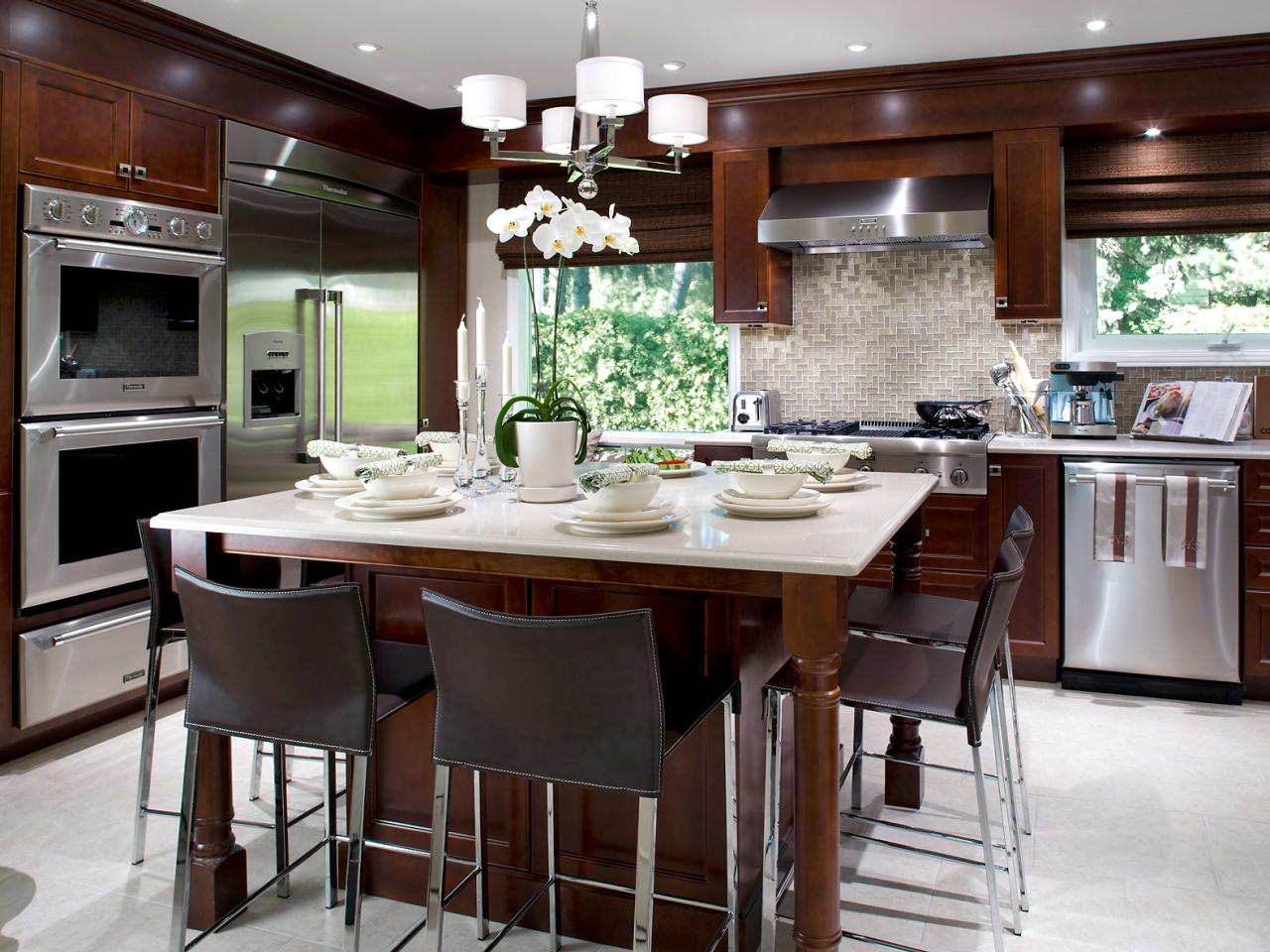 A dining island is more common in households and apartments. Its primary purpose is to serve as a dining centerpiece. The dining island serves as the main table for the kitchen, which can also be used as a place to stand and converse.
The dining island can typically be found in a square or rectangular shape and can be a great way to fill space that's often left in large kitchen spaces.
Storage Island
Storage islands are different than the islands we've listed above, as their primary purpose is to store items. Storage or "floating" islands are great because they double as a place to rest items in a social setting or a place to store unwanted items.
Storage islands can often be found in small apartments or even smaller kitchens. These are great additions to kitchens that need a bit more storage.
Budget-Friendly Kitchen Islands
Whether it be a sink, cooktop, or dining island, kitchen islands are best purchased in local department/hardware stores. We've searched the internet and could not find a good solution to buy online.
It's better to search these stores with appropriate measurements and see what style best fits your kitchen.
However, storage islands can easily be purchased online and installed.
Here are our best picks for storage kitchen islands
Monarch White Kitchen Islands
We featured this kitchen island above, one of our favorites. The white combined with the brown finish on the top gives this island a nice rustic look for older homes.
It doubles as food storage and a place to hang around if guests come over casually. Start storing your belongings here.
Liberty Black Kitchen Cart With Wood Top
The Liberty black kitchen cart with wood top is an excellent option for smaller kitchens that want to have the elegance of a kitchen island but may not have space. The kitchen cart doubles as a chopping table and can be extended for guests to rest a drink casually.
These tables measure 29 inches and can be wheeled to the side if you're trying to open up the kitchen. See full dimensions here.
Conclusion
Read more about kitchen islands below.
Kitchen Island Buying Guide: Everything You Need To Know
How To Size A Kitchen Island – Complete Guide
Can A Kitchen Island Be Moved? Learn How To Here
Kitchen islands don't need to be centered in the middle of the kitchen. They should be a focused centerpiece of the kitchen, but they should fit the flow of the kitchen.
Check the dimensions and the size of each kitchen island you want to purchase before deciding. Use our guide above for the four types of islands that best suit your kitchen island needs!
We've compiled a complete list of frequently asked kitchen questions for new and experienced homeowners.
Our team of experts answers these questions to help assist you through DIY projects and home repairs.
For over a decade, Robin has been a real estate agent, interior design specialist, and mother. Through her trials and tribulations, she wanted to create the perfect website to help you save money and make your home look beautiful.