Kitchen islands are often the standout centerpiece of most kitchens. They're noticeably placed in the center or middle of the kitchen and serve various purposes.
Kitchen islands used to be built into large kitchens. However, over the years, we've seen the use of mobile kitchen islands that are great for small apartments. These portable kitchen islands tend to be on wheels and are great for storage and food serving tables.
Kitchen islands can be moved if it's on wheels. If the island is not on wheels and has a kitchen sink, or stove, or is electrically wired, you may need a professional to help move the kitchen island. This will require additional plumbing and electrical work.
At the end of the article, you'll understand both sizing and moving your island to complete your dream kitchen.
The purpose of a kitchen island is to fit the need for kitchen space. We recommend getting a kitchen island if you're looking to:
Cover a large empty floor space relative to the countertops adjacent to it. Having a large empty floor space will make the kitchen seem big. However, it could look awkward and clunky if there's too much floor space.
Storage for pots, pans, cookware, or any kitchen appliances. If the cabinets are full, having a kitchen island as secondary storage is great for homeowners who like to cook and meal prep.
Additionally, storage on the wooden or granite top of a kitchen island is great for mail, reminders, and storing bills.
If the room allows it, Kitchen islands are a great addition to kitchens to add extra storage and cookware.
Moving a Kitchen Island
Kitchen islands are attached to the floor, typically by baseboard, kickboard, or wood slab.
These types of wooden holders are also called "cleats." They are essentially what will be screwed into the ground to maintain solidarity in the kitchen island and have it remain still.
If you install toe kicks or cleats into the floor, they must be drilled through your tiling.
If you don't feel comfortable drilling through your tiling (in case of a mistake or plans to move the island later on), consult with a professional to ensure quality drilling and installation.
As seen in the video above, the builders install cleats (or toe kicks) under the kitchen island boards, then fasten them to the island.
The video shows that the island must be fastened to the floor to tip over to have a granite top. Granite countertops are heavy, and sometimes an island can weigh over 1,000 lbs.
The other option is not to screw in the kitchen islands and use the toe kicks to prevent the island from moving.
This is shown in the video below, as we can see the kitchen island being digitally installed by simply placing the island over the toe kicks and securing it in place.
The weight of the countertops will make it hard to move in any direction.
Last, kitchen islands can be installed by using L-shaped brackets. This is only recommended for smaller kitchen islands with some wood finish.
We wouldn't recommend using heavy granite on top of L-shaped bracket-built kitchen islands, as the wood underneath may be weak support.
Different Types Of Kitchen Islands
The video below demonstrates how kitchen islands can be installed using minimum resources and a great DIY weekend project.
Stationary Kitchen Islands
Kitchen islands come in many different shapes and sizes. We've compiled a list of kitchen islands commonly found in houses, apartments, and condominiums.
Sink islands – A full kitchen countertop in the center of the kitchen space. This is great for kitchens that want to utilize their countertop space for storage or cooking and want extra space for dishwashing and sink usage.
Cook Top Islands – An island built for cooking and serving guests. The cooktop island typically comes standard with ovens, cooling vents, and stovetops. This island is the most complex, as it requires proper electrical and venting work.
Dining Island – Dining islands are common as they're an island with typically 2-4 chairs where homeowners can eat. This island type can substitute a kitchen table or serve as a place for guests to snack and chat.
Storage Islands – Smaller islands can serve as storage space. Typically, islands that have wheels are best kept for storage. These islands are smaller and can be placed either in the center or in the kitchen corner.
These are the main types of kitchen islands. You can learn about centering your island, which is best for you, and more in this article.
Furniture Kitchen Islands
Kitchen islands can also serve a dual purpose for eating and storage. These kitchen islands often come with chairs or bar stools for guests to sit down and enjoy a meal.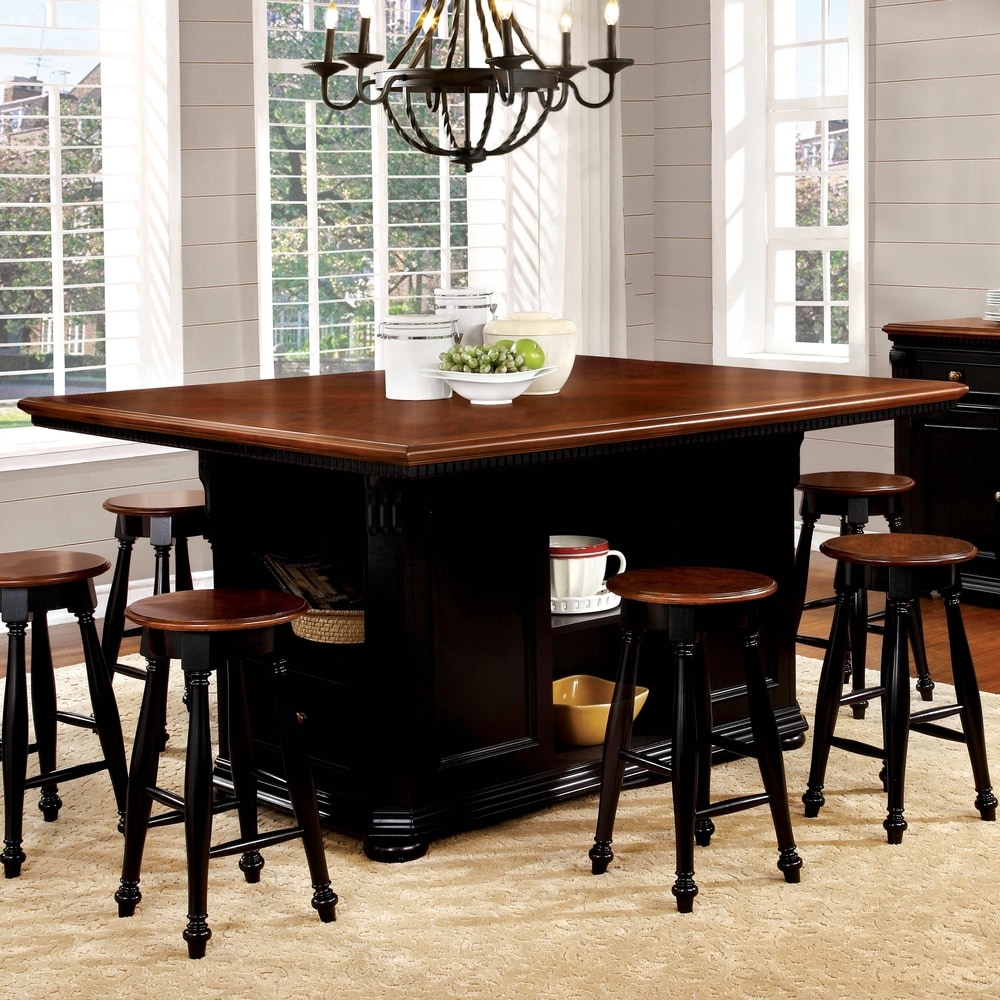 The 66-inch kitchen island is a beautiful countertop that can instantly be moved to fit any medium to large kitchen. Featuring two barstools on each side of the island, guests can enjoy meals and drinks around this island.
Also featured in furniture island sets is the ability for storage. It can be used for display purposes or if you'd like to store dishes or dinner accessories under the table.
Mobile Kitchen Islands
Kitchen island carts don't always need to be nailed into the ground or toe kicks or slabs on the floor.
Newer kitchen island carts are on wheels and can be locked into place. This is an excellent alternative for homeowners or apartment tenants who want an island's luxury but don't necessarily want to drill any holes into their wood/tiling.
For example, the Hodehan Kitchen Island cart is an excellent island on wheels that can be used as a spice rack, host small appliances, and store small pots and pans.
Typically mobile kitchen islands come in different sizes. It's not common to see a large kitchen island on wheels.
If you're strapped for space, it may be in your best interest to feature a smaller kitchen island like the Dorel Living Kitchen Island cart featured below.
This kitchen island has a solid wood-top finish that is a cute addition to smaller kitchens. This kitchen island features a towel bar and spice rack and is excellent for preparing food and serving small appetizers to your guests.
Where Should A Mobile Kitchen Island Be Placed?
A kitchen island should be placed in the most appropriate area of the kitchen. Many think the kitchen island needs to be centered directly in the middle of the kitchen.
We recommend the kitchen island be placed in a space that best fits your flooring plan. Read more about centering your kitchen island here.
Conclusion
Typically, kitchen islands can be moved if they're not screwed into the toe kicks or if they're on wheels.
If you're going to purchase or build a kitchen island, we recommend making sure you correctly measure and accurately screw in where the toe kicks will be placed.
Drilling holes into tiles or wood flooring will cause a significant headache if done improperly.
We've compiled a complete list of frequently asked kitchen questions for new and experienced homeowners.
Our team of experts answers these questions to help assist you through DIY projects and home repairs.
For over a decade, Robin has been a real estate agent, interior design specialist, and mother. Through her trials and tribulations, she wanted to create the perfect website to help you save money and make your home look beautiful.