Windows in bathrooms provide natural light that many people enjoy, but sometimes these windows are in inconvenient places like the shower. No one wants their neighbor to see them showering. So, what are the best 8 waterproof blinds to install in your shower window?
The best waterproof blinds for your shower are the NANAN Tier bathroom shades. They provide sufficient privacy from neighbors and add a modern feel to your windows.
Having this in mind, we want to find the most elegant shower blinds that not only complement our stunning bathroom decor but prevent any moisture build-up on our blinds.
We will introduce you to waterproof blinds and how they benefit your bathroom look.
Our Top Pick
SUPERIOR QUALITY, DURABLE SOLID TIER CURTAIN: The NANAN window tier curtains are made of a waterproof waffle weave textured plaid fabric, the casual weave fabric create perfect balance between light inviting & privacy assuring.
SIMPLE DESIGN: Rod pocket updates the look of your window in an instant. 2 inch high pole pocket fits a curtain rod up to 1.5" in diameter, works well with tension rods or normal rods.
MULTIPLE FUNCTIONS: Use the tier curtains to cover the lower portion of windows or used alone on shorter length windows, they can blend in easily with your kitchen, bathroom, laundry room, studio or whatever you used them. Machine Wash Cold, Tumble Dry Low, Cool Iron, Never Bleach.
STANDARD SIZE: Package includes 2 panel tiers,W30xL24/panel, W60xL24/set.These tailored tier curtains can be combined with coordinating curtain valance, all available thru Amazon.
Best Budget Pick
READY MADE: Package includes 2 panels of waffle weave tier curtains, each panel measuring 36"W x 24"L. Each panel has 2 inch high pole pocket, which works well with tension rods or normal rods, easy to install and slide. It is recommended to use a rod with a diameter of 1 inch or less.
WIDE APPLICATION: These 24 inch length curtains are not only suit for the kitchen window, but are also the perfect addition to your glass door, bathroom or living room windows, laundry room, study, basement, closet, cabinet , RV or camper. These small kitchen curtains can be paired with farmhouse, rustic, modern or vintage style home decor as you like.
EASY CARE: The durability of these half window curtains are due to the sturdy linen-poly blend fabric and top-notch sewing quality. Our short tier curtain sets are machine washable in cold water in the gentle cycle and tumble dry in a low setting. Do not bleach. Creases on the linen curtains from packing and shipping can be pressed out with low temperature ironing.
Honorable Mention
MATERIAL: 100% Polyester +Reinforce Thermal Insulated Coating. 100% blackout. 100% UV ray block.Excellent for cool, windproof, rainproof. Suitable for use in bedroom, kitchen, bathroom, etc. Blackout roller shades protect the privacy of you and your family and protects you and your family from UV rays.
SAFETY DESIGN: Roller window shades are equipped with a chain connector. When your child or pet is entangled in the chain, it will be disconnected by a certain pulling force to prevent the child from being injured. You can adjust the length of the entire window shades by the chain.
MOUNTING: Lower requirements than inside mount. Roller blinds width need to be 3-6 inch wider than window width, to avoid gaps. And the roller shades length need to be at least 6 inch longer than window length, to make sure to cover the entire window.
PRODUCT DIMENSIONS: 30" x 79";The fabric width is 28.5 inch. Color: Grey.Our products are produced under strict requirements.
8 Best Waterproof Blinds For Your Bathroom
This is our selection for waterproofing blinds that would not only look great in your home but will resist any moisture or water that is accidentally put on them.
1. NANAN Tier Bathroom Shades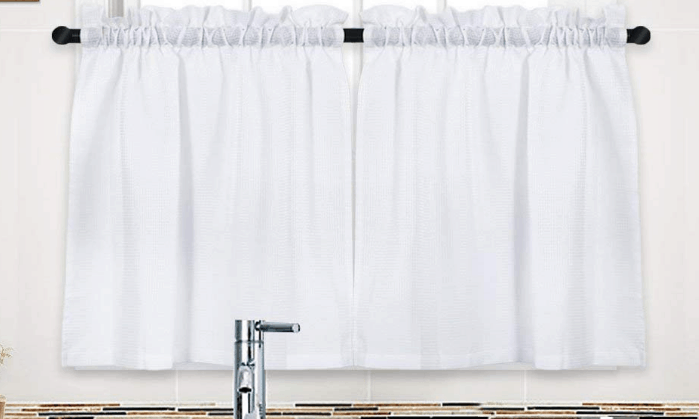 The tier bathroom shades are at the top of our list for simplicity and style. These waterproof shades come in 10+ colors to work with any color pattern you desire.
Made of waterproof waffle-weave textured plaid fabric, these shades provide the perfect balance of privacy and allow light to blossom the room.
Use these curtains to cover the lower half of the window, perfect for waist-high-level windows. Also sturdy enough to handle a slight breeze that pours through on a summer day.
2. Jinchan Waffle Woven Textured Short Curtains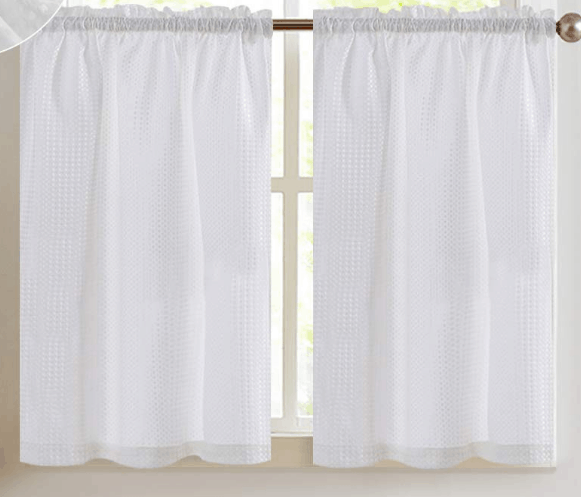 These curtains have a fantastic texture at a great price.
The waffle weave texture plaid fabric is water-repellent and perfectly fits any bathroom setup.
Over ten different styles available, these curtains fit any color bathroom and complement the existing scheme.
Two different style sets are available for purchase:
Width 36 x Length 24
Width 36 x Length 36
These curtains do a fantastic job covering the lower half of the window for privacy and letting the light from the top half illuminate the bathroom.
Great for bathrooms located on the same side of the sunrise, as the natural light sparks our bodies in the morning.
3. LUCKUP Waterproof Roller Shades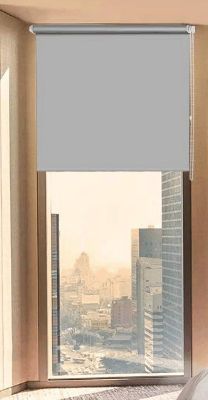 Made from 100% Polyester, these shades provide a thermal insulated coating.
The reason why I love these types of shades is that they provide complete blackout and waterproof solutions.
If you're a person who likes complete darkness in the morning, and to use the nightlight or bathroom light to wake you up, then these roller shades will do the trick.
The chain connected to the roller is child-safe, so if a certain amount of force is applied, it will naturally fall off. The length of the chain is adjustable by the homeowner.
Available in many sizes, these curtains will fit any bathroom and deflect the water and moisture it encounters.
The only downside we could find from these shades is they only come in standard gray; there's not much customization allowed from a purchasing standpoint.
4. Bloss Privacy Window Film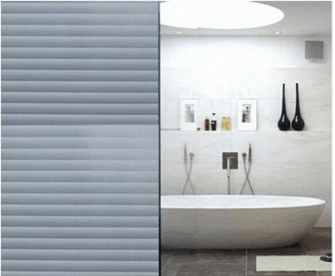 The Bloss privacy window film is a lovely traditional touch if you're looking for a more conventional waterproof window shade.
The window film softly filters light through the room while also providing visual privacy for the homeowner. This multi-use shade can be used in the bathroom and other spaces to keep a unified look.
Easy to install with nonadhesive, find a smooth wall or surface to hang these waterproof shades.
Available in 5 different color patterns, these shades are great for pricing and can be trialed without breaking the bank.
5. Carnation Home Fashions Vinyl Curtain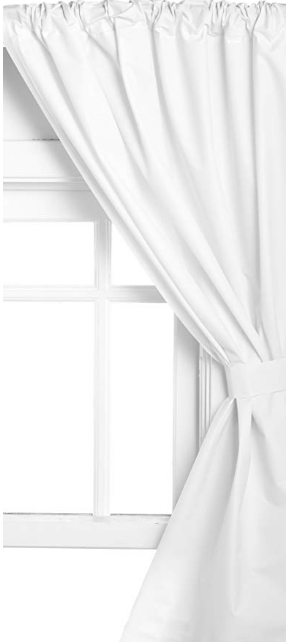 These elegant yet straightforward waterproof blinds are not only stylish, but they will fit with any bathroom pattern.
Made from 100% PVC, these water-repellent imported blinds wipe clean with any damp sponge. They fit wonderfully on any bathroom window and are pleasant to the sight.
These vinyl bathroom curtains come with two panels and two tiebacks, open or private.
6. Keego Blackout Bathroom Roller Window Shades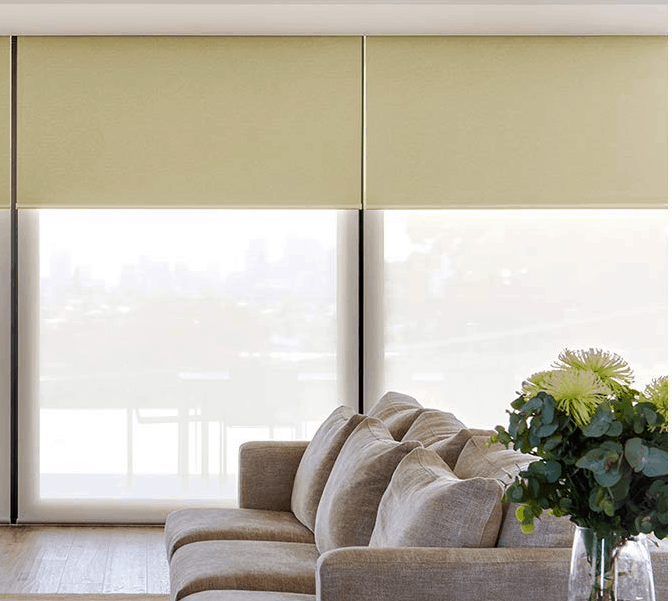 Looking to blackout a room and still have roller-style windows? The Keego blackout window shades are perfect for privacy and matching your decor.
It eliminates glare, blocks out light pollution, and prevents premature aging of your home's fabrics. Like other blinds on this page, use a damp sponge to clean and maintain.
Our favorite thing about the Keego blackout shades is the wide variety of sizes and the six different color options. You're not stuck having to choose one option. There are over 15+ sizes to match, however big your window frame is.
7. SEEYE Blackout Waterproof Window Roller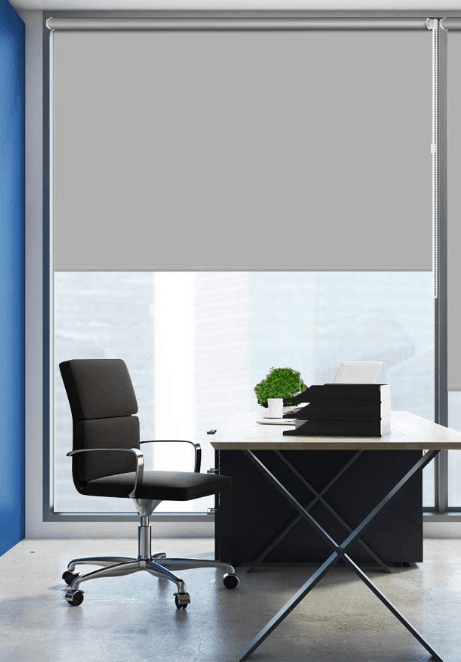 The SEEYE waterproof curtain is attractive because of the rope tension they offer with every purchase. It's to ensure that there isn't an accidental injury to your pet or kid.
100% Shading fabric, the SEEYE blackout rollers offer four layers of blackout roller blinds, a nice slick white PVC coating with 100% polyester lining the back.
This material is not only waterproof – it's oil, mildew, and moist-proof. Along with fighting off the water elements, it's also UV-resistant and flame-retardant.
8. Jakooz Rollup Shower Curtain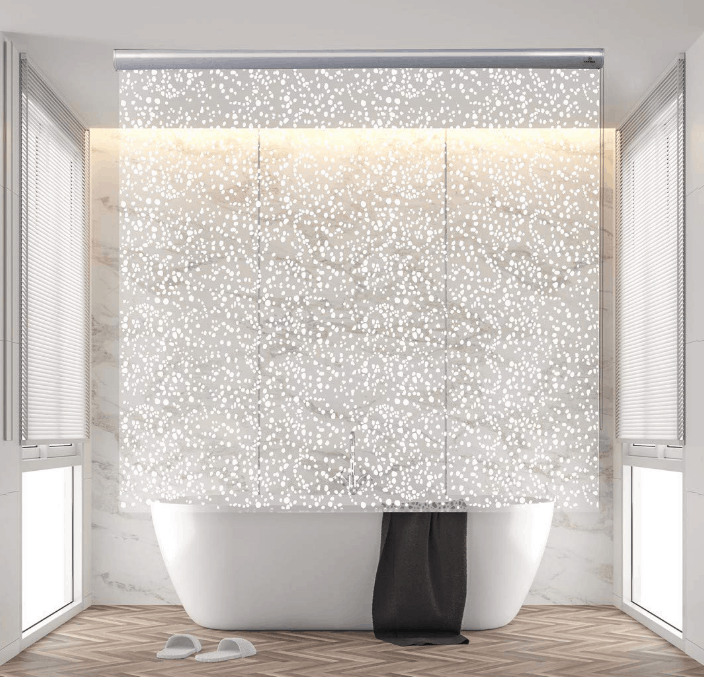 This shower curtain caught our interest, not only because it's waterproof but because of the unique way that it's used. Instead of using a traditional, bunch-up shower curtain, this Jakooz roll-up curtain is a great way to go outside the norm.
The long bath liner rolls up nicely in the thick aluminum base to tuck away. This is a great way to expose your beautiful shower or bathtub to guests when they use your bathroom.
This bathtub liner is a great waterproof option for bathrooms that want style and still desire the waterproof nature of traditional curtains.
Our Pick
Our top pick is the NANAN tiered bathroom shades. These bathroom curtains go great with any bathroom style and sit gently on any window. Buy the NANAN tiered curtains here.
Waterproof blinds are a great addition to bathrooms that are well-ventilated. These blinds noted above are stylish and will fit perfectly with different bathroom styles.
We've compiled a complete list of frequently asked bathroom questions for new and experienced homeowners.
Our team of experts answers these questions to help assist you through DIY projects and home repairs.
Let us know your favorite waterproof blinds for your bathroom in the comment section below!
What Are Waterproof Blinds And Why Are They Important?
Waterproof blinds are window curtains that prevent moisture from causing mold and bacteria. Waterproof blinds are also used for privacy and darkening a room.
Moisture-resistance blinds are great for areas with high moisture, such as showers, indoor hot tubs, and even indoor patios.
If you're hanging blinds in an area where there will be any moisture present, look into waterproof blinds to improve the look and improve the window's longevity.