What really is a kitchen island? What can you use it for? Why do you need one, and where to find them? Are they expensive or affordable? You have decided yet again to redecorate or freshen up your cooking space – don't stress. Here is everything you need to know about a kitchen island.
The kitchen island is a freestanding piece of furniture, a cabinet of a sort used either as a small table or a place for extra storage.
It is usually placed in the middle of the kitchen. If your kitchen and living room are not separated by walls, the kitchen island can also serve that purpose.
These pieces will forever be classics, and in case you would like one to get more space or feel like a real cook – we have answered all the most important (and some obscure) questions for you!
Kitchen Island Sizes
Of course, they come in different sizes so that you can buy one depending on the space your kitchen allows you. Unfortunately, the bigger the kitchen island, the higher the price. But think about how much your guests will love it and how much space will suddenly appear!
What Is The Average Size Of The Kitchen Island?
The average size of a kitchen island is 80 x 40 inches and 36-40 inches in height, depending on the type. Depending on your needs and the size of the kitchen, your kitchen island will either serve as a bar, an eating space, or kitchen appliances.
If you have a huge kitchen or wish to have a long island to separate rooms, we suggest finding another option. A row of cabinets, or keep a smaller island. If it is too big, it may as well just be a dining table.
What Is The Best Size For a Kitchen Island?
It is important to design your kitchen according to your needs. Don't get an island too small or too big. If it is too small, it will look weird and like it doesn't belong there. If it's too big, it will take up a lot of free space and make your small kitchen seem even smaller.
There are many possibilities when it comes to the shape and size of kitchen islands. Not every kitchen will look good with one. Here is a video guide to help you with designing your own.
There needs to be space for you to move around, so try to have at least a solid 40 inches of space between counters and the island.
How Long Should An Island Be For 3 And 4 Stools?
25 inches is enough space for a person to have while sitting and eating. So depending on your family members or potential guest lists, you should measure how long your island should be.
For example, if you need space for four people in your household, you will need a 7 ft island.
Is A Kitchen Island Higher Than The Counter?
Kitchen islands and counters are often equally high, but islands can be higher if you prefer to have them that way. 36 inches is a recommended height. That's just the standard.
42-inch kitchen islands are often used as dining tables. You can add a few barstools to make your kitchen a social hot spot. In this case, a 36-inch island is not high enough for eating comfortably or even sit on bar stools.
This being said, you probably won't eat at the island all the time. Bar stools are not particularly comfy but can be great for quick meals or pizza night.
Maybe, esthetically speaking, you would like it if your island wasn't higher than the counters since your kitchen may look bigger in size that way. So think about your kitchen priorities before deciding on your design.
Is Your Kitchen Too Small For An Island?
If your kitchen is tiny, buying and installing an island might look awkward. Not to mention you will bump into it more often than you'll like to admit.
Since the minimum recommended dimension is about 40 x 40 inches, you might have a problem if this is too big for you.
Kitchen islands look very odd in small spaces and can make you physically and mentally uncomfortable. But there is an elegant solution to this problem as well – a kitchen peninsula.
Just like in nature, their names speak for themselves. A kitchen peninsula is similar to an island. It is, however, connected to another counter. It is L-shaped or U-shaped. It is a great alternative; it is cheaper and still provides some extra dining space!
Don't despair if your kitchen still seems too small for any option. Kitchen islands aren't necessary. It is better to have more space than a pretty kitchen that is by no means functional.
Types Of Kitchen Islands
Some basic kitchen islands come in a few shapes and sizes. Typical islands, higher and shorter, are most often. Kitchen peninsulas are also popular, especially for smaller kitchens. Floating kitchen islands are also great for smaller spaces.
How Much Does It Cost To Install A Kitchen Island?
It all depends on your design. The prices can vary so much that it is hard to answer this question if you are trying to prepare yourself for the answer.
Let's begin. Some models, which are simple and sold in most stores, can cost you about $100-$300. If you got excited and started preparing for a trip to your nearest store, sit back down and read on.
The average cost, however, ranges from $3,000 to $5,000. If you are looking for something fancy and original, vintage or custom, you will have to save up more than $10,000 to add a single piece of furniture into your home.
Of course, if you need help installing the island, then your store will probably have a special policy and a price for extra help. Some stores offer their services for free, so feel free to tip whoever helps you out – it is not an easy job.
Luckily, you get to decide if it is worth the money. This brings us to the next question: should you have one and why?
Is A Kitchen Island A Good Idea?
A kitchen island is a great idea in many aspects. Let's take a look at some!
Your kitchen (assuming it is big enough) will get a new dimension and look much more professional, sophisticated, and elegant. Who doesn't want to be complimented on their home? You will feel better seeing your space look so good.
It uses space but it also saves it. A kitchen island can be used for appliances, for storage, for eating, or for enjoying afternoon cocktails. You don't have to leave the kitchen if you get a bit hungry because you will always have an extra surface you don't use for cooking.
It adds value to your home. Even if you are not selling anytime soon, it doesn't hurt to upgrade your house in case you decide to sell one day. Removing them is not that expensive if you change your mind. It costs about $200.
Does A Kitchen Island Have To Be Attached To The Floor?
Smaller kitchen islands need to be bolted to the floor. They are lighter than massive islands to be moved, bumped into, or knocked over. If you are quite clumsy, have a small child, or have a playful pet, you need to think about safety more than anything.
You will need to measure everything properly. It will make the difference between a beautiful kitchen and your greatest remodeling mistake.
You will also need to attach the frame securely to your island using screws. You will most likely need to cut the legs to the appropriate height.
Kitchen islands need to be anchored to the floor to make them stable during use and ensure they stay in one place if someone accidentally (or on purpose) moves them or hits them with something.
How Far Should A Kitchen Island Be From The Cabinets?
36 inches is the minimum when it comes to space between kitchen islands and the cabinets. If the counter near the kitchen island works as a sink, stove, dishwasher, or anything similar, space should be wider – about 40 to 50 inches.
Recommended distance between kitchen work areas, including both perimeter countertops and kitchen islands: 42 inches minimum in a kitchen where only one cook usually works, or 48 inches minimum in a kitchen where more than one cook may be working.
It doesn't matter if it is not a professional kitchen; maybe you share a household or like to cook with your significant other – you need space. You don't need to hurt yourself to cook a good meal!
What Is A Floating Kitchen Island?
The floating kitchen islands usually have downlights that emphasize the open space beneath the kitchen cabinets, so they appear to be floating.
They are great for smaller spaces and make big kitchens even bigger and lighter. The only downside to them is the lack of storage in the form of drawers or cabinets.
They look very modern and cool, so think about this alternative.
Recommended Kitchen Islands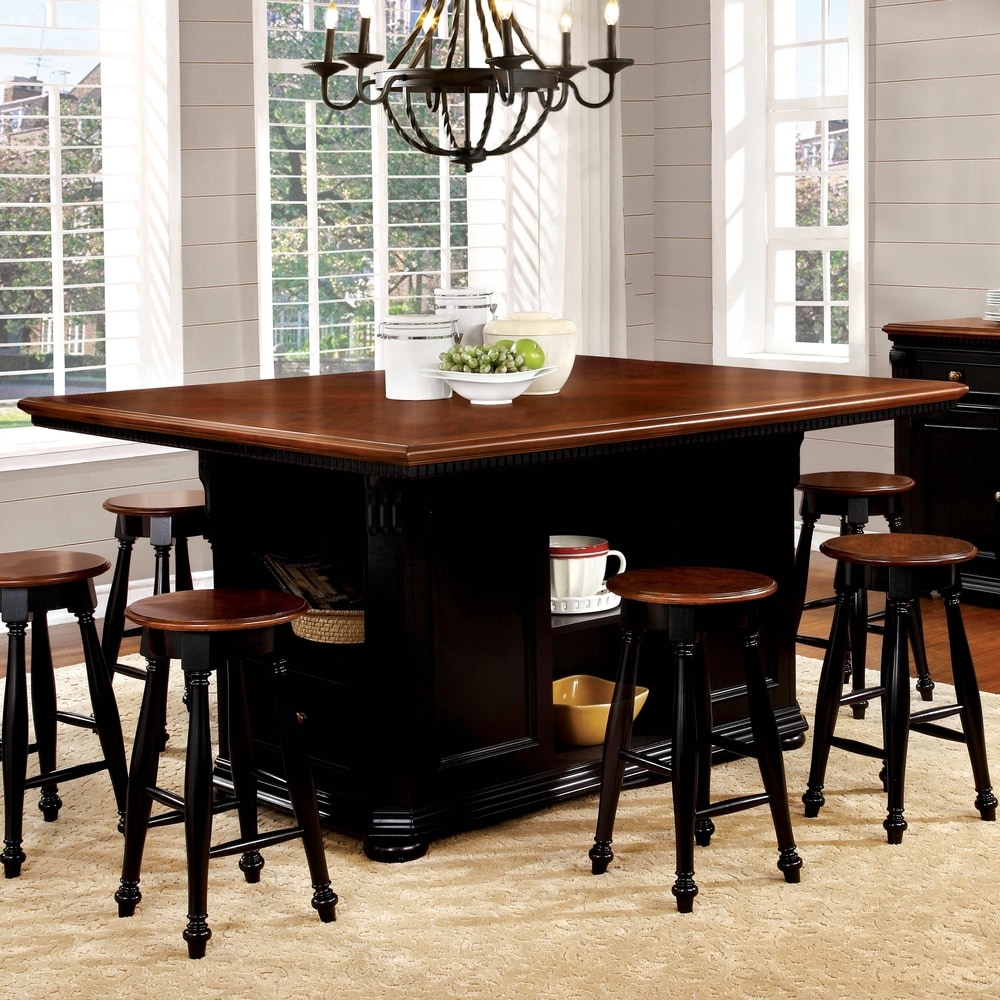 These are our top 3 picks for kitchen islands that you can have professionally installed or installed yourself.
These kitchen islands are big enough to dine and gather with friends around. Enjoy the flexibility of a dining room set and the durability of a kitchen island all in these one-piece sets.
Conclusion
Kitchen islands are different for each kitchen. The size, material, and stools available for each set are unique to each kitchen island.
We recommend measuring your kitchen island and ensuring that walking and sitting space can accommodate both you and your friends.
Don't force a kitchen island, as it can look awkward if randomly placed in the middle of the kitchen.