A bathroom vanity is the life savior that carries all your essentials within your restroom. It provides a compact space for storing towels, tissue rolls, and other cleaning products. However, good things come with a price, and bathroom vanities these days are very expensive to install.
Bathroom vanities are expensive because of the material, size, and design it takes to build them.
Let us together unfold the reasons for them being so costly, along with some useful hacks to save vanity construction and installation costs.
Why Are Bathroom Vanities Are Expensive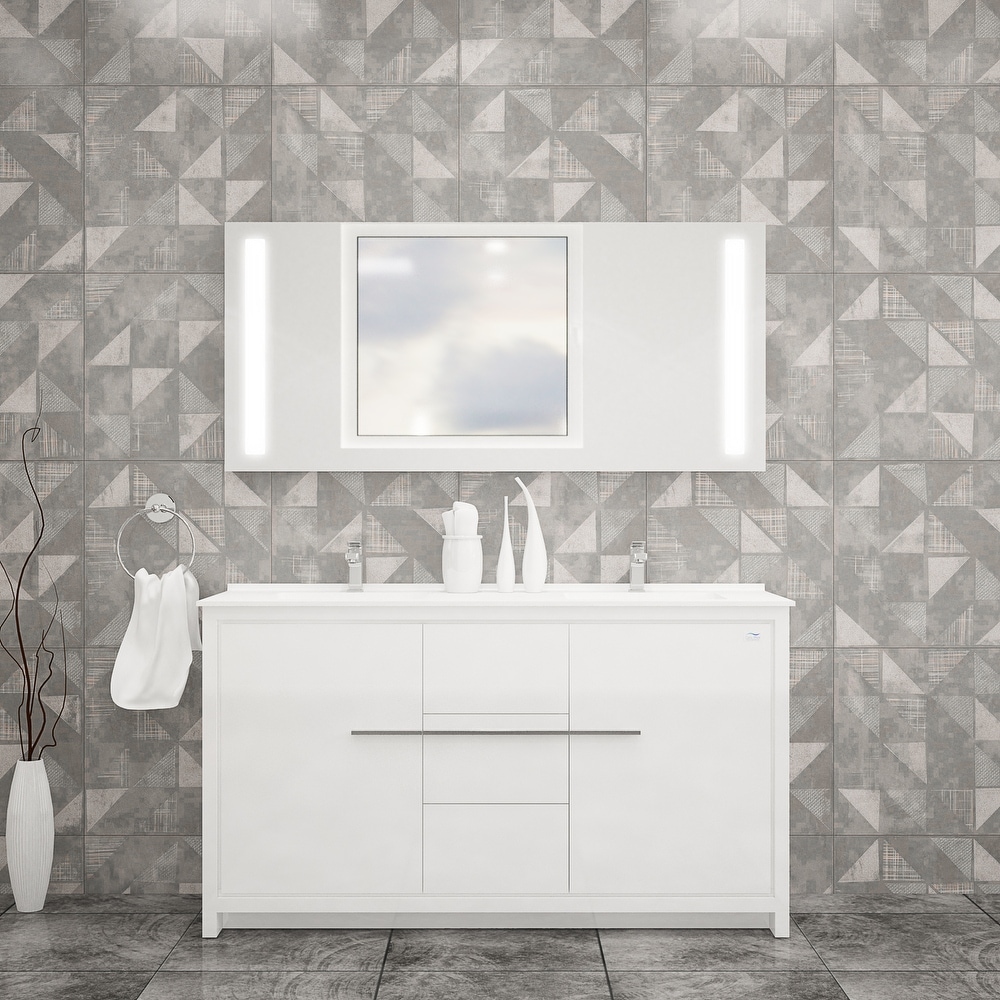 Bathrooms are exposed to water, humidity, steam, and too much moisture. Therefore, you cannot compromise on the quality of the material used in constructing a vanity unit.
A bathroom vanity unit usually comprises a sink, a countertop, and a cabinet beneath the countertop.
One of the most expensive components of a vanity unit is the countertop. You would find most of them made up of granite, quartz, or marble. These countertops are readily available to purchase square feet, while their prices can leave you with a mini heart attack.
The next most crucial element is the cabinets. Imagining your bathroom without multi-racked cabinets even sounds so tough.
Vanity cabinets are mostly particleboard, medium-density fiberboard (MDF), melamine or melamine-faced chipboard (MFC), plywood, or natural wood.
Using any other inferior material for your vanity cabinets is never a good idea. Moisture and humidity within the bathrooms can erode the cupboards, soon harming the belongings inside as well.
Also, saving a little on installation costs can bring you hefty repair costs later.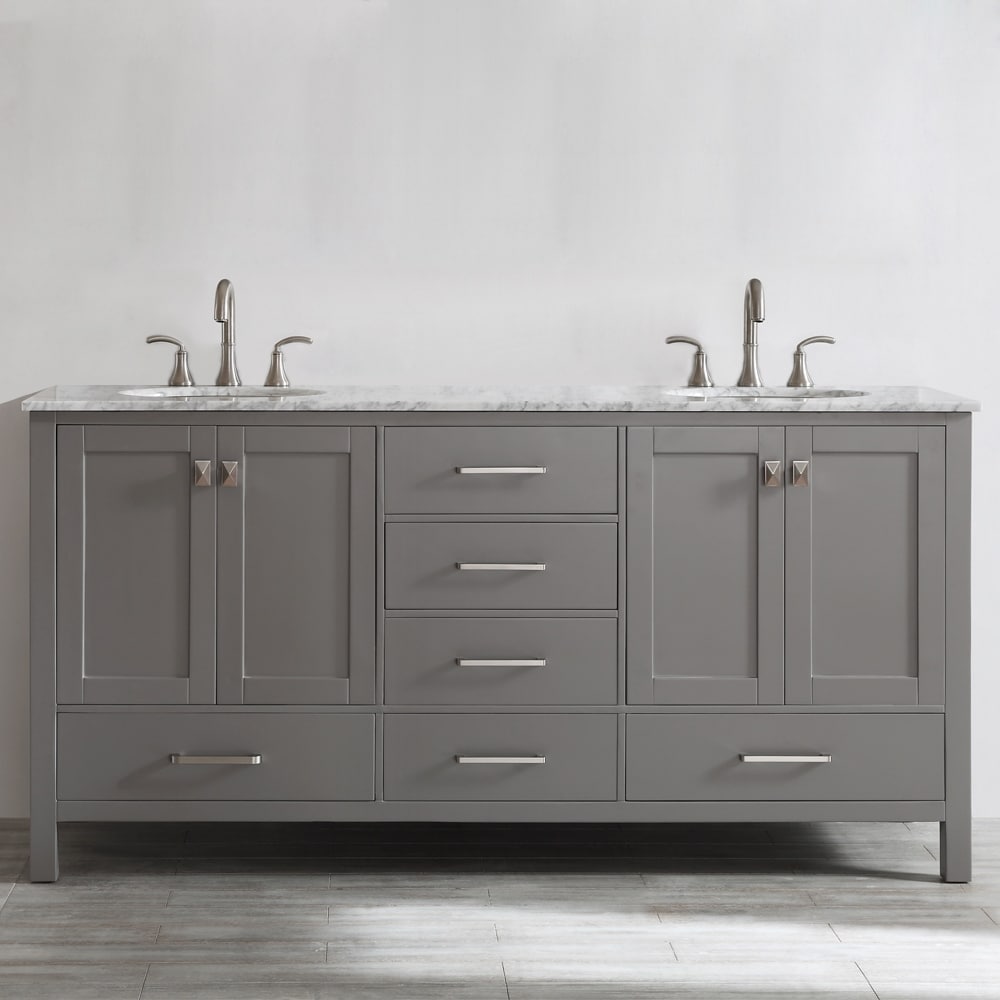 For a long-lasting and durable bathroom vanity, natural wood is the best option. Real wood might be an expensive option to go for, but it gives off a sophisticated look to your vanity unit and goes a long way.
We all want our restrooms to exhibit an aesthetically stylish look. The vanity unit, therefore, plays an essential role in crafting the look of your bathroom.
The custom designs, sizes, and high-quality materials make a vanity unit cost a fortune. However, those extra bucks are always worth it.
How Much Should A Bathroom Vanity Cost?
A bathroom vanity consists of a sink, a top counter, and a cabinet to conceal the pipes and other linings. These items can, nevertheless, be paired with many more components, i.e., some vanity units include a mirror and a pair of wooden cabinets above the sink; others may have drawers and other accessories holders installed as well.
There is no conclusive cost of a vanity unit, and it will usually vary from unit to unit. However, the average price of vanity units ranges from $1,000 to $3,000.
You can get yourself a prefabricated vanity, or you can custom design it yourself for some additional charges. A prefabricated vanity can cost you around $100 to $2,600, depending upon the material quality and size.
However, a custom-built vanity can be expected to fall somewhere between $500 to $2,800 depending upon the size and material quality.
In addition to this, the installation charges may vary between $200 to $1,000 per vanity. Online ordering for RTA vanity units may bring on some shipping costs too.
Again, there is no end to the styles and designs of a vanity unit. It takes a little designing sense and a wise mind to choose suitable materials and components.
You can buy pre-assembled or ready-to-assemble vanity units, or you can hire a professional to help you build and install your dear vanity unit. Moreover, don't try doing the plumbing all by yourself. Having an expert on board is always a better idea.
The countertop material and the size of the vanity are the two most contributing factors to the total price of the vanity unit. Larger sizes or complex countertops can amplify the vanity price or vice versa.
How To Save Money On Bathroom Vanities
To spend away a lot less money on your bathroom vanity, you should consider the vanity unit's type and the quality of the material used.
A significant cost cut can be achieved by customizing the vanity design into a simpler one. Four types of vanity designs are mainly used by designers. The built-in design covers the broader area of the bathroom, giving off a sophisticated look; however, this brings on a lot more cost.
On the contrary, the pedestal vanity design works well to utilize a small space bathroom. It makes the bathroom looks spacious and gives it an airy look. This vanity design is light on the pocket and high on style. 
A freestanding vanity sets on its legs, giving more storage room and a modern look with a low-cost design. A wall-mounting vanity hangs with the wall offering more space under the vanity. This ultimately mitigates the cost and works just fine in the long run.
In addition to these, you can customize any vanity type for yourself by carefully choosing the quality of the materials and the size of the vanity. There are many varieties in the countertop to scroll through while you aim to settle for a lesser cost.
Using a less expensive countertop (mainly porcelain or ceramic tiles) can save you cost like wonders. These materials can yield a saving of up to 30% compared to granite, marble, or wood.
For cabinets, you can opt for plywood instead of natural wood. This might make you compromise a little on the looks, but plywood is durable enough and tends to go a long way with minor maintenance requirements.
Who Makes The Best Quality Bathroom Vanities?
Hundreds of manufacturers build quality vanity units that will have you awe-inspired. Let us look into some of the top vanity manufacturers around the USA famous for their material quality, designs, durability, and appealing looks.
Virtua USA: One of the best and most well-known vanity unit makers in the market, Virtua USA, believes in exceptional quality and customer service. They have got the best quality modern-day vanity designs. You can find all types of vanities here ranging from in-built to standing vanities. Each of these is produced by professional handicrafts who take care of minute details. 
James Martin Furniture: James Martin Furniture is the leading manufacturer of traditional and modern bathroom vanity units. It offers more than 20,000 models of furniture, including vanity units. Being the pioneer in the evolution of bathroom vanities and design, their vanities exhibit solid wood material. Granite top and top cherry wood are famous brands operated under James Martin Furniture.
JWH Livings: JWH livings are very well known for their durability. These vanities are manufactured with a sealant that prevents warping caused by steam or humidity. Also, as far as the style and construction are concerned, these products are the finest in the world. Scorpio Reversible vanity and Grand Rana are the most popular models of JWH living. They offer the best prices for bathroom vanities as compared to other manufacturers in the market.
Basconi: Basconi has over a half-century of experience in manufacturing bathroom vanities and other accessories. It is a permanent member of the National Kitchen and Bathroom Association (NKBA) and a prominent participant in the Kitchen & Bath Industry Show (KBIS). They have proven themselves as the best manufacturer of bathroom vanities for the last 50 years. Basconi is also a CARB PH2 certified vanity maker i.e. They reduce harmful VOC chemicals. 
Stufurhome: Stufurhome is world-renowned for traditional and modern bathroom vanities ranging from 22″ to 72″ in width. Their products are hand-carved on antique brass hardware for a truly artistic look and durable design. Consano Double Vanity is their popular model with a creamy white finish and a marble top.
What Is The Most Popular Bathroom Vanity Color?
Usually, bathroom vanities are designed individually, in alignment with the bathroom surroundings. Color matching is a critical consideration while selecting the vanity unit. Along with a slight variation, some colors are commonly used in bathroom vanity units.
These colors include White, Ebony, and Gray. White is the most popular and loved color worldwide for vanity units. Ebony and Grey are the following most loved colors for vanity designs.
Where To Buy Cheap Bathroom Vanities
If you are already convinced to get yourself a vanity unit installed this very instant, then let us guide you your way. Do not worry about the transportation charges; hop on to the following cheap vanity stores.
Order your favorite vanity units online to enjoy free shipping and save on your vanity unit installation costs.
Home Depot
Home Depot is an online shopping site that offers a wide variety of bathroom vanities that you can hardly find anywhere else. Order above $45 and enjoy free shipping from their site. Get rid of unnecessary transportation costs and enjoy the best bathroom vanities home delivered. 
Wayfair
Wayfair is an online retailer based in Boston. It offers a large variety of bathroom vanities online with free shipping. Its well-organized site lets you find vanities filtered by their size, color, and shape. In addition to super-affordable prices, Wayfair offers free shipping for orders over $49. Take off the vanity from the truck by yourself or enjoy a Gate lift delivery only for an additional $50.
Decor Planet
Décor Planet is a well-reputed vanity dealer with three showrooms in New York. Their offered vanity units are usually 16 1/4 inches wide, wall-mounted, and come with a medicine cabinet.
Décor Planet offers free shipping for orders above $99. Also, they have a wide variety of designs with a modern touch and a traditional look at the same time.
Conclusion
Bathroom vanities are expensive because of the material, sizes, and design that goes into making the vanity.
We've compiled a complete list of frequently asked kitchen questions for new and experienced homeowners.
Our team of experts answers these questions to help assist you through DIY projects and home repairs.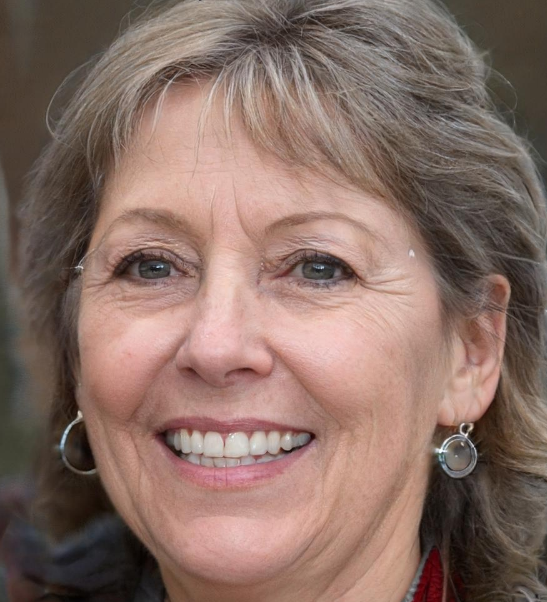 For over a decade, Robin has been a real estate agent, interior design specialist, and mother. Through her trials and tribulations, she wanted to create the perfect website to help you save money and make your home look beautiful.