The iRobot Roomba range is an excellent range of robot vacuum cleaners; however, I have a few pets that run around my house, and cleaning up their mess and pet hair is not the most splendid choir at times. What are the best Roombas for pet hair?
The best Roombas for pet hair are iRobot Roomba s9+ and i7+. Those features are rubberized brush rolls, a filtration system, and mapping navigation. These three features allow the clean-up and removal of pet hair to be painless and trouble-free.
This article will detail the specific features and functions that a Roomba should have to make pet hair and mess a thing of the past. Then I will go over my guide and review the top two Roombas best suited for this purpose. Enjoy!
Roomba Features For Pet Hair
All iRobot Roombas come with a variety of features and functions. Depending on the model you buy and the price you pay, they will vary in features, functionality, and design components. There are quite a few, but we needed to find parts and functions that could tackle pet hair, specifically compared to other great models for different reasons.
Brush Rolls
You will notice and find several types of brush rolls on all various Roomba models. The bristle brush rolls are very basic and are prone to tangle. However, Roombas that feature the bristle brush roles are more friendly on your wallet.
Another type of brush roll is the dual rubberized brush roll, and these are a little more advanced than their bristle brush roll counterparts. These bristles are designed to prevent tangles and work well for the most part but are not as great as their rubberized counterparts.
These rubberized bristles are found on newer Roomba models such as the s9+, i7+, and e5.
Filtration System
When looking at the filtration systems on a Roomba, you get two types. One will be the AeroVac filter, and the other will be the AeroForce filter.
The AeroVac filter is the older version of the filtration system and has average quality. These types of filtration systems have a smaller dustbin like the Roomba 675.
The aero force filter is more advanced, and it is smaller. You may think that because it is smaller, it will work less efficiently; however, because it is small in size, it offers more space for the dust bag (dustbin) and therefore can hold a larger capacity of dirt.
This filtration system is found in the s9+, i7+, and e5 Roomba models.
Zone Navigation
The last feature we will look at that will affect how well your Roomba cleans up pet hair is zone cleaning. All new Roomba models are compatible with the virtual wall barriers. There is a downside to this: most Roomba packages do not include a virtual wall.
Even so, you can use older virtual walls and buy a new standalone virtual fence. What is excellent about virtual walls is that they can be used to block areas in your home.
This allows you to block areas where your pet dishes and other regions could contain delicate and pricey furniture.
For new Roomba models, you will achieve this by using the app feature called "keep-out zones." This feature comes with the Roomba s9+ and i7+. These models have an onboard camera, and they scan the room, picking up where objects will be. When using the app, you can select and mark your room areas that the Roomba will stay away from.
When you compare this to a virtual wall, you will see that it is a step in the right direction and is more convenient than a virtual wall.
Best Roomba For Pet Hair
There are various Roomba models, and they all pretty much get the job done for the most part. However, when looking at the features we need for cleaning pet hair, only two models stood out from the rest because they had the elements that worked the best to clean up pet hair.
Those models were the s9+ and the i7+. This guide will review these two models to decide which model to choose.
One thing to note is that both of these models feature some of the same functionality at this top-tier range, and two of them include Wi-Fi capability and voice control.
iRobot Roomba i7+
This top-end Roomba model offers automatic dirt disposal, which allows it to empty itself for up to a whopping 60 days. The filtration system features AllergenLock bags, which capture and trap 99% of pollen and mold.
This model Pulls in stubborn dirt & messes with a Premium 3-Stage Cleaning System. It also has ten times the Power-Lifting Suction of entry-level models.
Furthermore, it features vSLAM navigation; this enables the i7+ to learn the layout of your rooms and home. It does this by building personal Smart Maps, allowing it to proficiently clean and navigate in a neat, efficient way around your house. When it starts to run low on battery, it recharges and resumes cleaning.
With Smart Mapping, the Roomba knows the difference between your bedroom and kitchen. This feature allows you to decide where it cleans and when. Adding the feature of Keep-Out Zones, your Roomba knows to avoid sensitive areas like pet bowls.
The Roomba i7+ robot vacuum has an astonishing AI, learning where and when you usually clean. It then suggests personalized schedules for you.
Lastly, it is ideal for pets with its Unique Dual Multi-Surface Rubber Brushes that don't get tangled with pet hair. The brushes adjust and flex to stay in constant contact with all types of floors. The high-efficiency filter will trap 99% of cat & dog allergens.
iRobot Roomba s9+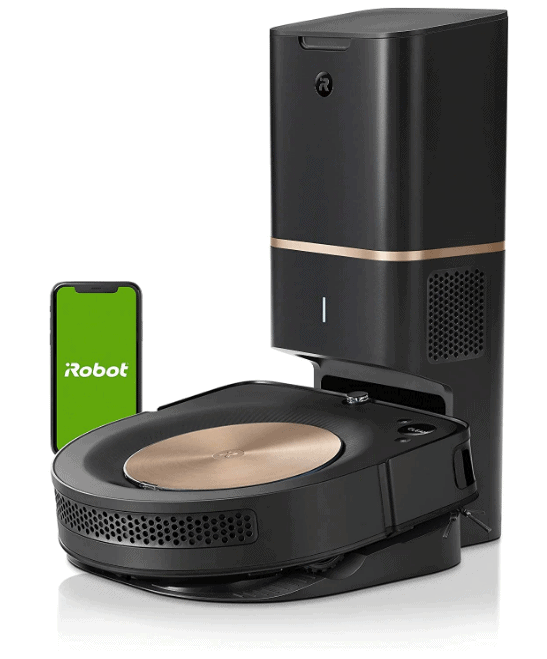 This is the top-tier range model from Roomba. Mainly built around the same functions and features of the i7+; however, it has a few more bells and whistles.
It features an automatic dirt disposal system like the i7+, which allows it to empty itself for 60 days. The anti-allergen system also collects and traps 99% of pollen and mold allergens.
The s9+ is designed to have the smartest AI out of the entire Roomba range and is the most powerful vacuum cleaner yet.
This model offers 40 times the entry-level models' suction power and features the superior 3-Stage Cleaning System that lifts, loosens, and eliminates dirt and pet hair from any floor surface you have. The suction is so powerful due to its power boost technology; it will give you a great deep clean for floors and carpets, which are thick.
What separates this model from the rest is its PerfectEdge Technology. This feature has advanced sensors and has a specially designed Corner Brush that optimizes cleaning deep into corners, not to mention along edges.
Ideal for homes with pets. 30% wider Dual Rubber Brushes don't get tangled with pet hair. The s9+ also features vSLAM navigation that enables it to learn the layout of your rooms and home.
Using your voice assistant, you can delegate and request your Roomba to clean up a mess right away. Additionally, and with the i7+, it has smart mapping technology so you can decide when and where it cleans, allowing it to avoid sensitive areas.
A fantastic feature that the s9+ has is Imprint Link Technology. The Roomba s9+ paired up with the Braava jet m6 robot mop, vacuum, then mop automatically in perfect sequence.
This is the model you need if you want to purchase a Roomba because of your pets. It offers all the features and can make pet hair removal a thing of the past.
Next Steps
We now know the main features and functions a Roomba should have to clean well. Those features are the brush roll, the filtration system, and the zone navigation. All these play a role in the clean-up of pet hair, and depending on the model, these features and functions will be better or not so great when trying to tackle pet hair.
The two best models with all these features and functions are the Roomba s9+ and the Roomba i7+. However, s9+ sports a few more bells and whistles.
If you're looking for a Roomba for hardwood floors and tile, check out our review here.
I hope this article helped you in your pursuit and quest for pet hair removal, which should be trouble-free and painless.
We've compiled a complete list of frequently asked bedroom questions for new and experienced homeowners.
Our team of experts answers these questions to help assist you through DIY projects and home repairs.